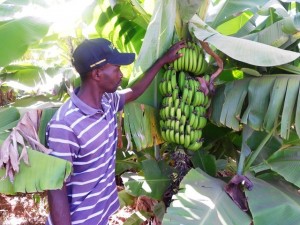 The roar and the dust trail of a pikipiki across the Kenyan terrain are common sounds and sights. Deb & Phil Hodson on a pikipiki or the Bluemke's on a pikipiki is a common sight but NOT Tim on a pikipiki!  (Pikipiki is a motorbike)  Again on a pikipiki Tim and Patrick headed back to Nkimpa to speak with the village chief.  The chief's family compound consisted of 9 huts with 1 livestock corral and approximately 50 people living there.  The huts were made from mud & dung with no windows and a small door opening.  There are 2 rooms, one for sleeping and the other for cooking & living.  They are very dark and smoke filled inside.  It is an honor to be invited inside someone's hut and a very humbling experience.   The Maasai people are very gracious and proud of their heritage and culture.
While zipping across the countryside, Tim and Patrick came upon a "young people conference."  Make-shift huts are erected and enclosed in a circle of cut trees and bushes.  The compound covered about 4 acres.  The Maasai elders teach the young men and women, of ages 17 – 25 about their culture and traditions.  It can last up to 6 months but the young people are free to come and go as needed.  Some are married with children.  Tim said you could see big smoke fires inside the compound.  Several men came out to talk with them but would not let Tim take pictures.  It is a very traditional part of their culture which we respect.  Just being able to see and experience the conference setting is a huge experience!
Work is continuing with the ditch irrigation system and the drip irrigation system for the banana orchard, fruit trees and crops.  Patrick and Stephen are excited about the upcoming banana harvest.  It should be a great harvest with lots of fresh, tree ripened banana bunches!  Yum – Yum.
The sights of livestock grazing, the zebras, giraffes and baboons crossing the road, Maasai women and children carrying water jugs and firewood and the wide open landscape are gone.  Now the sights are constant traffic jams, roadside kiosks, people walking to and fro, smog and the many lorries carrying supplies. Tim arrived at the Bomas compound in Nairobi on Wednesday.
Tim, the Sisters and members of the Parish Council met with William, the well driller, for the borehole well recommendations.  The meeting lasted 4 hours and many options were discussed.  The borehole well will be deep, very deep 820 ft deep.  However once the water flow is reached underground it is strong and powerful.  There will be pumps, tanks, pump house, security and a power source to consider.  All of these items are needed to provide a school with fresh, clean flowing water for the children of Kenya.  Kenyan children who desire to attend a school to learn about Christ, the world and make Kenya a better place.  The living water of Christ!
The weather has been cool, cloudy and rainy in Nairobi.  The electricity and internet has been affected.  Tim has had a couple of days to review Life's Heart's projects with others.  He starts the long flights home on Sunday and will arrive back in Indy on Monday evening.  Then he will once again adjust to life in the US but there are some things you never adjust back to.  It is a humbling experience to serve Christ.
Be Blessed!