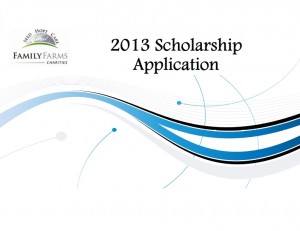 FamilyFarms Charities will be awarding two $1,000 scholarships to high school seniors pursuing a degree or career in agriculture. To apply, please fill the application.
Applications are due April 1, 2013.
Applications can be sent to:
FamilyFarms Charities
31832 Delhi Road
Brighton, IL 62012
or emailed to vivester@familyfarmscharities.org
Click for the FamilyFarms Charities Scholarship Application 2013.